HEATHER
Hi, I am Heather, the founder of Croft Farm Riding Centre. I am a BHSAI and also an accredited Ride With Your Mind Coach.
My aim is to:
- Keep my horses happy while fully co-operating with the riders and giving them proper instructions
- Teach riders how to encourage their horses to do what they want them to do 
- Create harmony and partnerships between my horses and riders
- Continue improving my riding training skills
CARLA ALEXANDER
Hi, i'm Carla, I have my NVQ levels 2 and 3 and ABRSITA. I have been teaching for 14 years and I especially enjoy building confidence with the children and their ponies, working towards having a go at competitions. I also enjoy teaching adults to reach their full potential. I believe that you can have a lot of fun learning the correct way. 
MICHELLE
I have been at Croft Farm for over 20 years, i trained here gaining my NVQ level 2 and 3 and ABRSITA. I am also a qualified RDA group instructor. I really enjoy teaching the little ones correctly and have a great raport with children that have learning difficulties. I also organise the winter dressage league and enjoy teaching all ages to do dressage tests. 
DEBBIE WHITE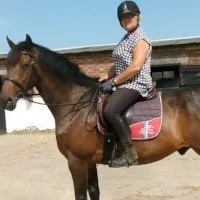 Hello, I'm Debbie, I have been teaching at Croft for 11 years. I have taught my daughter and trained horses for the Horse of the Year Show and Badminton Grass Roots Championship as well as National Pony Club Dressage Champion. I love to teach to this level, but fully understand that you start small and build to your own goals, whatever that level may be.
Testimonial:
"The staff ... very friendly and helpful. I was given a very willing horse to ride. I had lots of fun and am looking forward very much to the next ride." - Jane Dibb